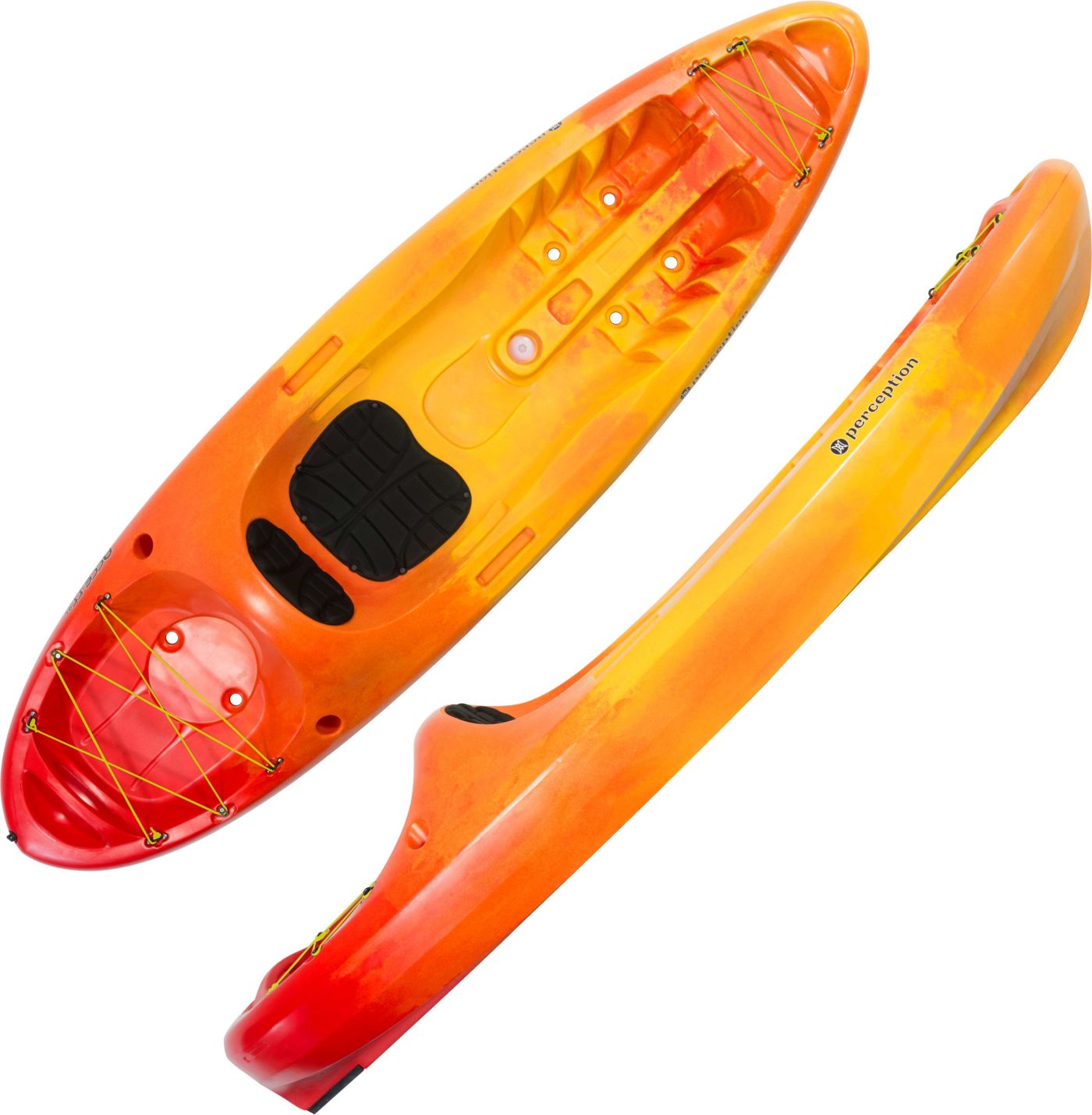 Perception Access 9.5 Kayak
check_circle Added to Cart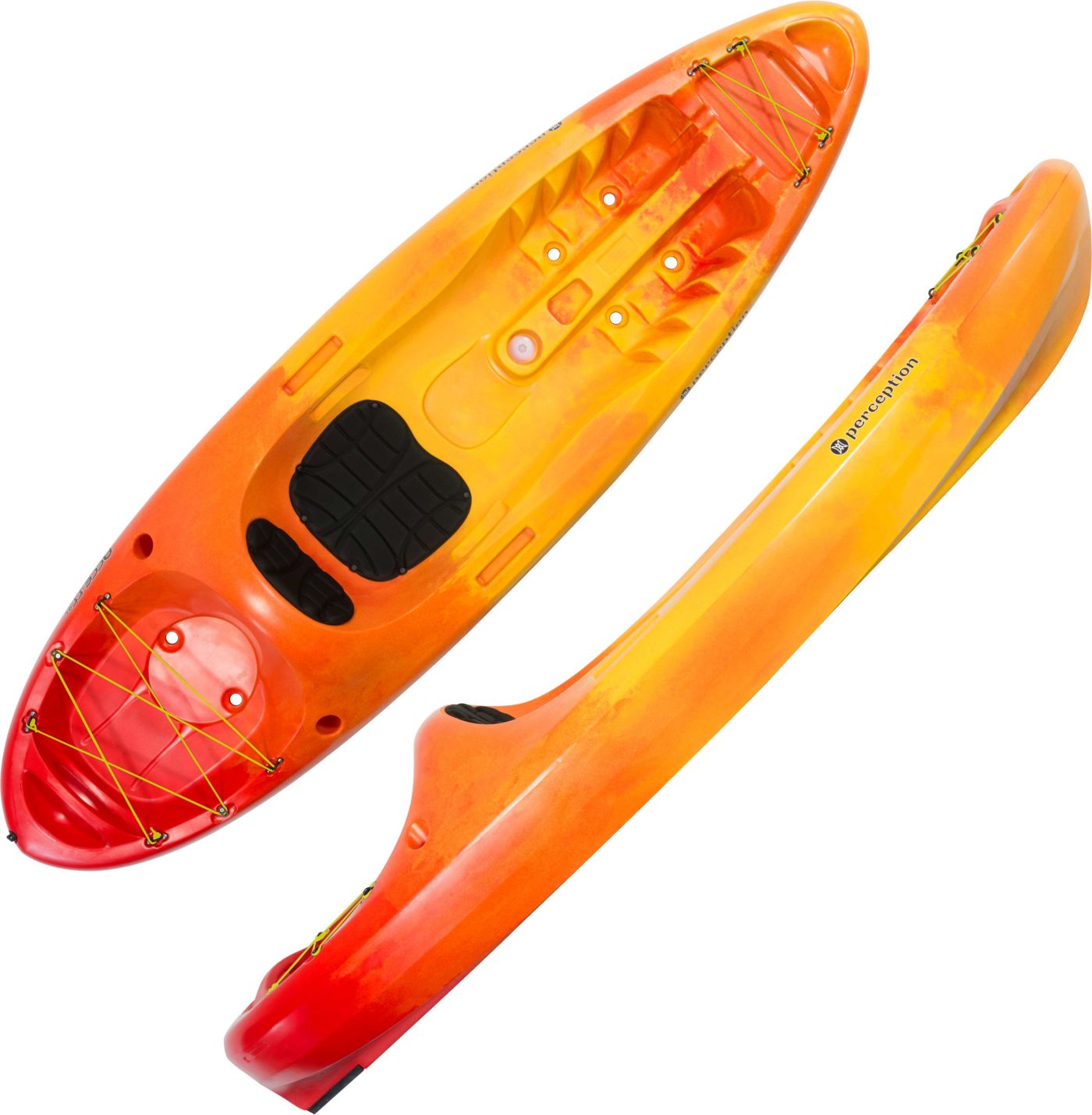 Perception Access 9.5 Kayak
Product Information
Hit the water with a lightweight and easy to maneuver kayak in the Perception® Access 9.5 Kayak. Great for beginner and intermediate paddlers, this sit-on-top kayak weighs only 50 pounds and is easy to transport. A padded high back molded-in seat and molded foot wells offers comfort for longer trips. Tankwells in the bow and stern as well as a center hatch in the Access 9.5 Kayak offer plenty of storage that keeps your belongings close.
FEATURES:
1-person, sit-on-top, recreational kayak
Designed for beginners and intermediate paddlers
Pontoon design
Built for lakes, ponds, river and light surf
Designed to accommodate fishing gear and other accessories
Lightweight design for easy hauling
Two (2) molded-in rod holders for hands-free convenience
Provides superior stability with excellent tracking
Padded, high-back, molded-in seat for comfort on the water
Molded-in footwells
Bow and stern tankwells with bungee cord lashes for securing gear
Includes front and rear storage for safely storing gear
Includes a drink holder for convenient refreshments on the go
Easily replaceable skid plate for dragging without fear of permanent damage
Molded-in carry handles for easy transport
Five-year limited manufacturer's warranty
SPECIFICATIONS:
Length: 9'
Width: 31"
Boat weight: 50 lbs.
Maximum user weight capacity: 250 lbs.
Deck height: 19.5"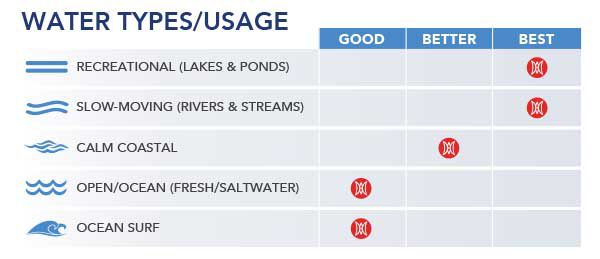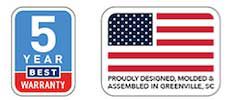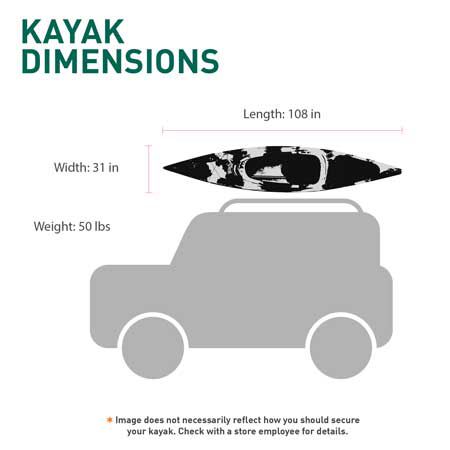 Brand :

Perception

Country of Origin : United States of America

Style : ACCESS95
---
Web ID:

15PTNUCCSS95XXXXXPSK

SKU:

16532018
Perception Access 9.5 Kayak
is rated out of
5
by
23
.
Rated

5

out of

5
by
RubiconJoe
from
Great kayak
I bought this kayak for my wife. It is lightweight I carried it by myself and loaded it in my truck. My wife had never kayaked but wanted to since she hears me tell of my adventures all the time. We settled on the Perception Access 9.5. The back is very comfortable. The only complaint she had was her butt got wet because there is no drain plugs in that area. This kayak is made in America and is well made. If you touch it and compare it to the flimsy made ones you can tell the difference. At the end if the day she did let me try it out. I found it faster than mine and tracked well. She loved the Roxy color. You do have to get at least a 240 paddle since this kayak is wider than most. This does help with its stability. I was was happy with the staff at Dicks who priced matched and loaded my truck for me.
Date published: 2018-04-23
Rated

5

out of

5
by
Syn73
from
Love this Kayak!
This was my first kayak purchase. I wanted a sit on top, hubby wanted a sit inside -so we purchased one of each. I have had it in the pond fishing and on the river so far. Very easy to handle, easy for a beginner like myself. I did not tip or feel uneasy at all. Getting on and off was a breeze. I have had multiple compliments on this kayak. Simple to load and not too heavy. It was a great purchase! I am looking forward to more adventures going forward.
Date published: 2018-07-24
Rated

5

out of

5
by
Exploring Girls
from
Great all around!
Great kayak! My husband purchased it for me so that my daughter and I could join in on the water adventures (without rentals or borrowing). I totally dig the Roxe color, the seat back is comfortable, great tracking, and never once did my daughter and I come close to tipping it (and she is a wiggly toddler). My husband has a 12 foot kayak so initially we were concerned about the 9.5 foot Access model, but after our first use this is no longer a concern. Very happy with my first very own kayak!!!!
Date published: 2018-09-04
Rated

4

out of

5
by
andy_be
from
Everything that was advertised!
Bought two of these. Wanted the 11.5 access perception but when deciding how I would carry I decided on the 9.5 perception kayak. I think it was the right choice due to weight and length sticking out of the back of truck. Very stable and fun. The only negative is they don't track well at all if you stop paddling (turns to side) and they may not be as "fast" as other types of Kayaks. Raced a few people wtih a sit in model and got smoked. Could have been me though....We loved them and had lots of fun and would recommend. Have not fished out of it yet, but did take a cooler since so hot and had no issues carrying it around on back of kayak. I am a 170 lb male and my daughter is about 95 lbs. Both of us easily manuvered and had no issues with balance or carrying in or out of water. Felt very safe in them. Great product!
Date published: 2018-07-24
Rated

5

out of

5
by
Teana
from
Comfortable, stable, FUN!
First time kayaker. I have a huge fear of drowning and felt very secure in my SOT kayak. Entry/Exit not difficult as long as you stay centered and go slow. It tracked straight pretty well. First time out did 4 miles on a lake over 3 or so hours. My tailbone and back did not hurt at all, the seat is very comfortable. Very happy with this purchase.
Date published: 2019-04-28
Rated

5

out of

5
by
OBX Joe
from
Great beginner kayak
Very comfortable and stable. Tracks well but with it's larger profile it is susceptible to being pushed by the wind (leeway). With it's large width you may find you need longer paddles and possibly even longer straps for your carrier. All in all, a very good general purpose kayak.
Date published: 2018-06-01
Rated

5

out of

5
by
Amyriverrat
from
Great quality!
This is the second kayak I have purchased for myself though its my first Perception kayak. I had a cheaper brand as I was learning to kayak. This is a great kayak! It is so steady! I have been able to use it once in the lake last weekend and it was great! Easy to steer and so steady on the water. Great buy!
Date published: 2018-05-09
Rated

5

out of

5
by
NikonPhotoBug
from
Best Kayak I ever had!
As a beginner Kayaker, never Kayaking prior to purchasing a Kayak, no knowledge about the sport at all except to put the Kayak in the water and go, I have nothing to compare to other makes and models. For me personally, this is the best kayak I have ever started off with. Eventually I may upgrade to a white water Kayak, or another type of Kayak, but I will NEVER get rid of this one. I love it so much! My additional Kayak will probably be a Perception model as I have had nothing but good luck with this brand. I chose the sit on top Kayak for the fact that I love the open feeling to it. The rudder is an important aspect to the kayak....for this Kayak. River Kayaks are different just to throw that out there. My Kayak paddles straight with no problem of swaying more left or right as some others have a tendency of doing. I have been in heavy wind with my Kayak, and some bigger waves and my Kayak has NEVER tipped over or come close. It cuts through the wind and waves easily and for me, and that is important. I can stand up in my Kayak without it tipping over. Not that I do that very often, but that is how stable it is. Another positive for me.I love the storage on it. I can put my water jug and other items behind me and reach all of it with no straining or over reaching. In front of me, there is a small waterproof container where I can put my phone, car keys, and other small items I don't wish to get wet and it snaps shut so if it were to ever tip over, I don't believe I will have to panic. I chose the bright color due to the need to be seen on the water. But that is just personal preference. I have loaned one of my Kayaks (oh yeah, I loved my Kayak so much I bought 2 more (one for my husband and one for my daughter who both love their Kayaks) to other people to try and so far, everyone who has ever tried my Kayaks fell in love with them. There are holes in bottom of Kayak for draining. So, I never have to worry about my Kayak flooding with water which I notice some Kayaks don't have. Steps for footing is wide enough so my feet do not slip off, I love that feature so no seat adjusting is needed. And anyone short or tall can use this Kayak. The seat is pretty comfortable too. My first time Kayaking, I went 3 hours, and I was not sore next day. Kayak glided over the water and continued to move long after I stopped paddling, so it really loves the water and bigger waves as much as I do! And what I mean by bigger waves is when a big boat comes by, my Kayak can handle whatever wake it send my way. Everyone's opinion about Kayaks are different, but if you are looking for a good starter Kayak, I have had 8 people so far who have never done any type of Kayaking before try my Kayak, and they have all fell in love with it. So, it isn't just me being bias. Youngest person to use my Kayak was an 8 year old, so size is no issue.This Kayak is light weight. I am only 5'6" and I can load and unload my Kayaks myself onto my car. My Kayak is the 11.5 foot if that helps. I love the plastic handles on both ends of the boat for easy carrying to and from the water and I use the handles for strapping it down during transport. And it is very durable from top to bottom. I don't believe I will ever have to worry about it cracking or puncturing. I have had it in some of the most shallow water, and no problems at all with it gliding over water, even with my rudder. I hope this review helps. Definitely best Kayak I have ever owned so far.
Date published: 2016-09-05
We're testing out a new product page experience, and we'd love your feedback.
SHARE YOUR THOUGHTS